In connection with the sale of batteries or rechargeable batteries, or devices that are operated with batteries or rechargeable batteries, we as a dealer are obliged under the Battery Act to provide information about the relevant regulations and obligations:
Used batteries should not be put in the household garbage. Consumers are legally obliged to bring batteries to a suitable collection point at retail or the municipality. The delivery is free for you. You can send your used batteries back to us. The return of the batteries / rechargeable batteries to us must be free in any case and must be sent to the following address:
APM Telescopes
Service & logistics center
Quierschieder Weg 38
66280 Sulzbach
Shipments without freight prepaid will not be accepted.
Old batteries may contain pollutants or heavy metals that can be harmful to the environment and human health. Furthermore, batteries contain valuable materials which can be recycled. The environment and APM Telescopes say thank you.
The garbage can symbol means: Batteries and rechargeable batteries must not be disposed of with household waste.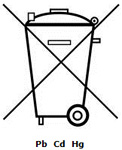 The symbols under the garbage cans stand for:
Pb: battery contains lead
Cd: Battery contains cadmium
Hg: battery contains mercury
You have the option of reading this information again in the documents accompanying the delivery of the goods or in the operating instructions of the respective device manufacturer.
Further detailed information on the Battery Act is available from the Federal Ministry for the Environment, Nature Conservation and Nuclear Safety at http://www.bmu.de/abfallwirtschaft or from the Federal Environment Agency at http://www.uba.de.